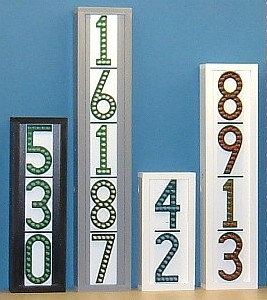 LEDress™ lighted house address numbers can be packaged in an upright formation. Vertically aligned digits may better match the design of rowhouses, townhouses, or dense, multi-story development in general.
Any home designer or dweller can create a custom, decorative look to a house having porch pillars or other vertical elements by specifying or applying vertical LEDress custom lighted house numbers.
The readability of the vertical arrangement may be even better than the horizontal units because the digits are spread out over a larger area.
The vertical LEDress illuminated house number sign differs from the horizontal style, having a larger enclosure, extra internal wiring, and side stabilizers in the taller units.
The heights of the 1, 2, 3, 4, and 5-digit units are 8 1/2, 8-1/2, 12-1/8, 16, and 20 inches, respectively. All vertical models are 3-3/4 inches wide and 1-7/8 inches deep.