Dollar Price for Units per LED Color
Display
Length
red
yel
orn
blue
wht
grn
1 Digit
x
x
x
x
x
x
2 Digits
x
x
x
x
x
x
3 Digits
x
x
x
x
x
x
4 Digits
x
x
x
x
x
x
5 Digits
x
x
x
x
x
x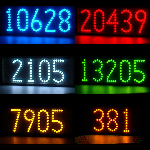 Vertical Units Sale: Number of Enclosures Available
Display
Length
white
black
gray
1 Digit *
x
x
x
2 Digits
x
x
x
3 Digits
x
x
x
4 Digits
x
x
x
5 Digits
x
x
x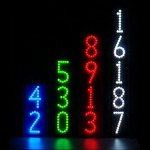 * A single-digit display can go into a 2-digit vertical enclosure
Pricing table for LEDress lighted house numbers--includes free shipping in USA. Use this page to figure the dollar amount when using the printed mail-order form.
Vertical style sale: Pricing for verticals is now same as horizontal style. Save $5 to $25 from original pre-May2020 prices.
Orders are filled in 1 to 3 days, delivery can take another 2--4 days.
Warranty: Two years; see "Policies" page for details
Ordering: use link below (or via Show Menu link for small screens).
Note: Single display orders will not exceed $99, meaning that if mounting or wiring kits put you over that limit, you save a few dollars. See the "Specials" page for details.
Accessories: The transformer is included free of charge
$4 Mounting Kit (Optional) See "Mounting" page for details
Wiring Kit (Optional) $1 per 5 feet of wire and includes staples and wire nuts. See "Wiring" page for details