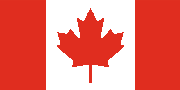 May 2019: Canada customers get a 20% discount to offset the exchange rate, if using Canada postal codes and the PayPal payment method is selected. See the Specials webpage for more information. Mail orders and payments by personal cheque are no longer accepted because of the current exchange rate ($1.35) in addition to bank processing fees here.
One in five LEDress customers are Canadian. The Logician provides free shipping of LEDress lighted address numbers to Canada, even though postage rates nearly doubled in early 2013. PayPal will calculate Canadian dollars required for the US $ order amount. USPS First-Class Package International shipping is used, other methods are too expensive.
Canadian customers, be aware of extra charges that may occur when the unit is sent from the USA. Canada Post may charge a customs handling fee ($9.95 as of March 2016), there are GST or HST taxes depending on the Province, and there may be a duty fee. Customers have reported everthing from no extra charges to $22CDN (Ontario, Sept2016). As of mid-2013, USPS tracking numbers work clear through to the delivery address. A sample of recent shipping times: Burnaby BC--8 days Mississauga ON--7 days Whitehorse YT--13 days Halifax NS--9 days Moncton NB--12 days Edmonton AB--6 days Fort McMurray AB--15 days
LEDress lighted house numbers have been shipped to the LED-colored Provinces. The colors represent the first LED color sent to that Province. LEDress originates near the 6-colored spot (in Oregon). More Canada sales data is on the Sales Map page.