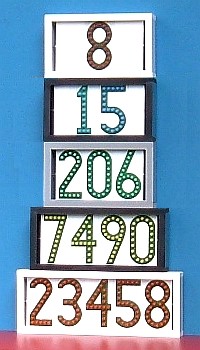 Have you noticed how often service or delivery vehicles go down the road, put on the brakes, and back up 2 or 3 lots to get to the right spot? Friends couldn't find your place even after detailed directions? Have you strained to spot a street address on a dark or stormy night? With a LEDress™ LED address sign, all that comes to a stop right in front of your home or business. This display is not a distraction to drivers; instead, it makes the address very obvious to someone looking for it.
The LEDress lighted house number sign is custom made in the USA (using global parts), and is available for numeric addresses of 1 to 5 digits in length.
Most customers elect to mount the display outside, like regular house numbers. The display enclosure is made of a lightweight plastic that is designed for outdoor use. The easiest installation is to simply place the LEDress in a window where there is an electrical outlet within 5 feet and there is a good view out to the street.
Enclosures come in 3 colors: White, gray, & black. Black units should not be installed in direct hot sun. The LED light colors are red, green, yellow, orange, blue, and white. LEDress weighs around a pound and is 8" wide for 1, 2, and 3-digit models; 10" wide for 4-digit, and 12" wide for 5-digit displays. All horizontal models are 4 1/2" high and just under 2" deep.
The lighted LED numbers are over 3 inches high. They are easily night-readable from 80 feet away and are very effective in a typical urban or small-town neighborhood. From over 100 feet away, night-reading becomes difficult; see the "Mounting" page for suggestions. Other websites may claim far longer "visible" distances, but readability is more important. A LEDress is visible and will draw attention over a greater distance also.
LEDress lighted house numbers can be set to shine 24 hours a day, or just from dusk to dawn, because there is a built-in photocell that senses daylight. The unlit daytime-readable dark green digits are 3 1/2 inches high and are on a white background.
The display is powered by a low-voltage "wall-wart" adapter transformer, included for no extra charge. Using this transformer and connecting it to the unit is safe for the do-it-yourselfer; an electrician is not required. Most people are handy enough around the house, or know someone who is, to install the decorative LEDress illuminated address sign. See the Powering webpage if you want to use a different power source.
Vertical units are available that may be a better match with your house or business style.